Since I live north of the Mason-Dixon Line, I couldn't find any pork cracklings.  I also couldn't find lard in a quantity less than five pounds, and Minnesota has blue laws that prohibit the sale of most alcohol on Sundays (such as the white wine the recipe calls for).  Also, I wanted to halve the recipe.
So here is my heavily modified version of Crackling Biscuits, without cracklings:
Bacon Biscuits
Inspired by "Crackling Biscuits" from Beard on Bread, by James Beard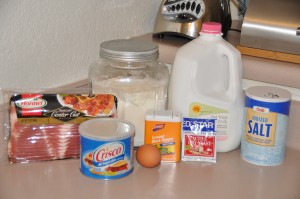 Ingredients:
1/2 package active dry yeast
1 1/2 tablespoons warm milk
1 3/4 cup plus 1/2 tablespoon all-purpose flour
1 egg, separated
4 slices of bacon, fried until crispy and finely chopped
1/2 tablespoon salt
1/2 teaspoon of pepper (this yields a very peppery biscuit, use less if you prefer)
1/4 cup vegetable shortening, melted
1/4 cup plus 1 teaspoon warm water
Dissolve the yeast and 1/2 tablespoon flour in warm milk and let proof.  Combine 1 3/4 cup flour, the egg white, bacon, salt, pepper, shortening, and 1/4 cup water.  Add yeast mixture and stir, adding more water if needed to form a stiff dough.  Knead on a floured surface until smooth.  Place dough in a buttered bowl and let rise for about one hour, or until doubled in bulk.
Punch the dough down and let rest for three minutes.  Roll the dough out, fold in half, cover with a cloth, and let it rest for 10 minutes.  Repeat the rolling, folding, and resting process three more times (four total).  Roll dough out to a thickness of 1/2 inch and cut out biscuits with round cutter.  Place biscuits on a buttered baking sheet.  Beat the egg yolk with 1 teaspoon of water.  Score the biscuits in a lattice pattern and brush with the egg wash.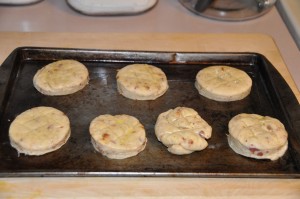 When the egg wash has dried, bake the biscuits in a preheated 400 degree oven for 20 minutes or until lightly browned.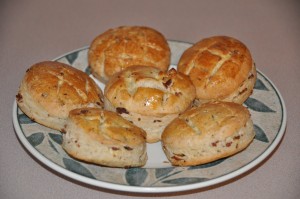 I found my biscuits to be edible, but not much to write home about.  The texture was light and flaky, but the bacon bits and tons of pepper just didn't do it for me.  Maybe they would have been better with cracklings and white wine.