"The bread sticks made from this dough taste yeasty and have nice crunch to them."
-James Beard, Beard on Bread
Flush with success from making it to the halfway mark of the Brooks Bakes Bread project yesterday, I wanted to bake some more bread.  I chose bread sticks since they would pair nicely with our dinner of salmon and boiled potatoes.
Ingredients: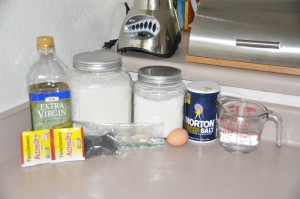 The plastic bags in front are filled with poppy seeds and sesame seeds to sprinkle on the bread sticks.
Although very hands-on, this is a simple recipe: mix the ingredients together, knead the dough, and shape it into bread sticks.  Of course, I had a difficult time 1) dividing the dough into equal sections and 2) rolling the dough into decent-looking bread sticks.  As you can see, my bread sticks varied widely in length.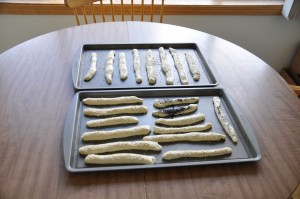 After a brief rising time of 20 minutes, the bread sticks were ready for the oven.  I used two oven racks, rotating the baking sheets halfway though the 30 minute baking time to ensure that the bottom bread sticks didn't get over-baked.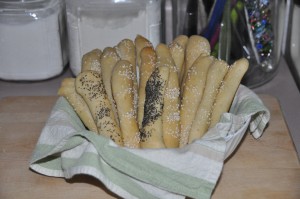 Despite their non-uniform appearance, the bread sticks were delicious: slightly chewy, with the perfect amount of salt and wonderful crunch from the sesame seeds.  Beard claims that they keep well for several days, but I doubt that we will be able to verify that–all the bread sticks will be gone well before then.