"This is a very rich bread with a slightly acid flavor and a wonderful texture.  I invented it one day when I set out to make buttermilk bread and didn't have any buttermilk.  I resorted to sour cream instead, and the results were highly satisfactory."
-James Beard, Beard on Bread
Continuing on my sour cream kick (it was on sale) I made Sour-Cream Bread tonight.  Today was our first snowfall of the season, so it was a perfect night to stay in.
Here are the ingredients: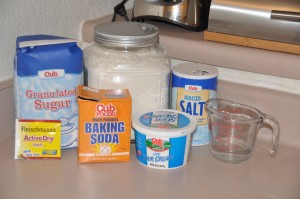 This recipe took a bit longer than anticipated because the sour cream is supposed to be at room temperature, so everything was delayed by an hour while the sour cream sat on the counter.  Otherwise, this was fairly straightforward recipe to prepare.  The dough was a challenge to work with; the sour cream made it extremely soft, but at the same time very  crumbly.  It took a lot of elbow grease and patience to knead the dough to the point where it stayed together.
After the first rising, I didn't have enough dough to shape into 9 x 5 loaves, as called for by the recipe, so instead I used my 8 x 4 pans.  I was so anxious to get the bread in the oven that I forgot to take a "before" picture, but here is the "after" picture when the bread came out of the oven after 20 minutes at 375 degrees: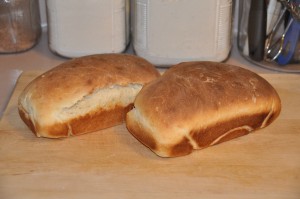 Sour-Cream Bread is definitely not a bread I would make again.  It is very rich and heavy; I prefer my white breads to have a light texture. However, it was still lovely to eat soup and fresh bread and watch the snow fall, and bask in the appreciation of not having to shovel any of it since we live in a townhouse.