"A flat loaf topped with a mixture of lamb, pine nuts, tomato, and garlic, this Arab counterpart of pizza is exceedingly delicious, intriguing looking, and a delightful change from other dishes of this type."
-James Beard, Beard on Bread
When you write a cookbook with 104 different bread recipes, it is inevitable that some of them are "bread" in a looser sense of the term than others.  Such is the case with Lahma bi Ajeen, which is eight little flatbread pizzas.  It may be the only "bread" recipe in existance that includes ground lamb as an ingredient.
Here are all of the ingredients.  The bread ingredients are on the top, and the filling ingredients (including ground lamb, pine nuts, onion, garlic, Tabasco sauce, and allspice) are on the bottom.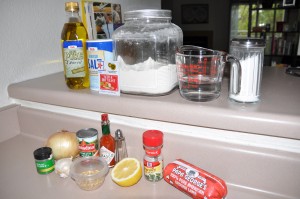 I took a few more liberties with the ingredients than I usually do.  Since it was sold by the pound, I only used one pound of ground lamb instead of one and half pounds, and adjusted the rest of the filling ingredients accordingly (I knew that math degree would come in handy someday!).  The fresh parsley I had on hand had seen much better days, so I substitued dried parsley.  Instead of grinding peppercorns, I used regular pepper.  Finally, I cut the amount of salt in the dough in half, from 1 teaspoon down to half a teaspoon.
I had to use less flour (3 1/2 cups versus 3 3/4) and more water (1 1/4 cup instead of 1 cup) to get my dough to the right consistancy.  I'm used to my dough doubling in size after about 45 minutes, but this dough took three hours.  My guess is this was due to the fact that the dough has much less sugar than previous recipes.
The filling was easy to prepare–I just chopped up and sauted the onion, and mixed it with the rest of the ingredients.  I cooked a little bit of the filling on the stove top to make sure I had the seasonings right.  Then, I divided the dough into eight pieces, rolled each one out, and topped it with the filling mixture.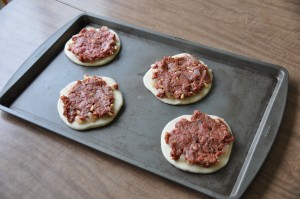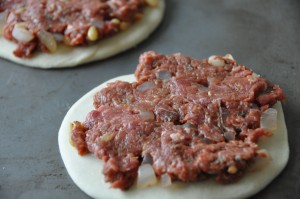 I baked the pizzas in the oven at 475 degrees for 7 minutes.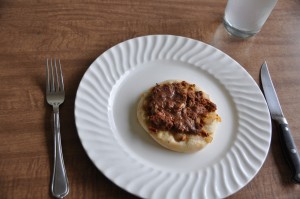 Mike was a much bigger fan of this recipe than me–he enjoyed the flavor combination of pine nuts and lamb.  I thought that the flat bread base was delicious, but the mixture of lamb, tomato, and allspice wasn't very appealing to my palette.  However, it was certainly an interesting dish to try.