"This rather unusual bread is delicate and moist, with an intriguing cheese bouquet and flavor."
-James Beard, Beard on Bread
Mike requested some sandwich bread for the week, so last night I made Cheese Bread.
Here are the ingredients: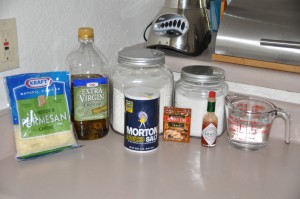 I used two of Beard's variations suggestions: I substituted 1/3 cup olive oil for the 1/2 cup of butter, and used one cup of shredded Parmesan instead of a mixture of Parmesan and Gruyere.
The recipe starts out like a basic white bread dough: I mixed all of the ingredients except the cheese together to form a dough, kneaded the dough, and let it rise for two hours.  Then I had to knead in the cheese.  Luckily, it was much easier to knead shredded cheese into bread dough than it is to knead in an entire stick of butter.
I shaped the dough into two loaves to fit my 8 x 4 bread pans and let the dough rise for another hour and a half.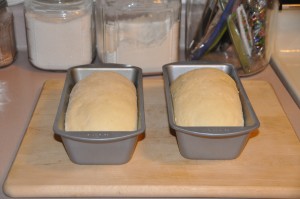 I baked the loaves at 375 degrees for 20 minutes; they increased in size fairly dramatically during baking.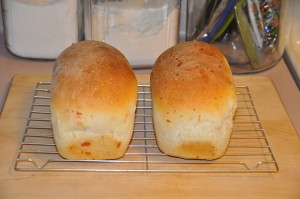 Cheese Bread is amazing–it is a perfect loaf of basic white bread, blended with subtle flavors of Parmesan and olive oil.  Half of one loaf disappeared fresh from the oven; the other half lasted another 12 hours.  Cheese Bread is going on my "favorites" list.