"This recipe comes from a delightful cookbook called Good Things by an English writer, Jane Grigson…It makes one of the most attractively flavored and textured breads I have eaten in a long time."
-James Beard, Beard on Bread
In an effort to make my March 27 deadline, I am doing three recipes this weekend.  The first is Jane Grigson's Walnut Bread from Southern Burgundy.
Here are the ingredients: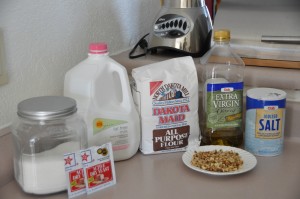 Since I couldn't find walnut oil, I substituted olive oil, and I left out the chopped onion since I didn't really like it in Dill-Seed Bread.
I mixed all of my ingredients, except the walnuts, together to form a nice soft dough that was a pleasure to work with (especially after Gluten Bread).
Although the recipe indicates a rising time of two hours, my dough tripled in size after an hour and half, so I punched it down and kneaded in the chopped walnuts.  Then, I shaped it into four round loaves and let it rise for another 45 minutes.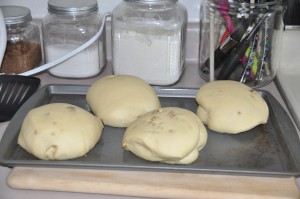 I baked the loaves at 400 degrees for 40 minutes.  They ended up a bit over-browned, so I probably could have shorted the baking time a few minutes.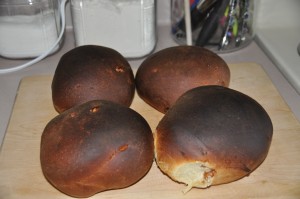 Jane Grigson's Walnut Bread from Southern Burgundy is absolutely lovely.  Personally, I think it tasted wonderful without the onions and a subtle hint of olive oil.  The texture is perfect: a thick, crusty exterior with an incredibly light and fluffy inside.