"A veteran breadmaker, Mr. Childs grinds his own whole-wheat flour and recommends that you do the same."
-James Beard, Beard on Bread
Unlike Mr. Childs, I'm not hardcore enough to grind my own flour.
Here are the ingredients: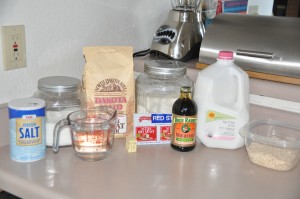 Mixing up the dough was an involved process.  First,  I mixed the yeast with the warm milk and sugar to proof.  In a separate bowl, I mixed the boiling water with the oatmeal and set it outside to let it cool to 98 degrees.  Meanwhile, in a saucepan, I warmed the butter, molasses, and salt.  Once the oatmeal mixture cooled, I mixed in the yeast and molasses mixtures.  Finally, I mixed in 3 1/2 cups of whole-wheat flour and 2 1/2 cups flour, and kneaded it lightly to incorporate all of the flour.  The whole process took almost an hour.
After letting the dough rise for 45 minutes, I finished kneading the dough and shaped it into two loaves to fit my 9 x 5 pans.  Then I took a two hour nap.  Unfortunately, this meant that my dough rose too much in my pans.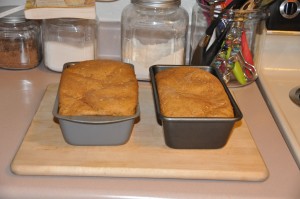 My bread fell flat, but it still baked thoroughly after 55 minutes at 350 degrees.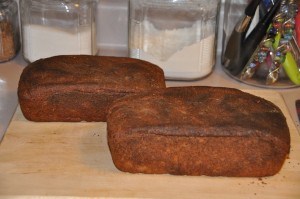 I feel like I can't pass much of a judgement on William Melville Childs' Health Bread, since I messed up the second rising.  To me, it tasted very similar to Maryetta's Oatmeal Bread–hearty with lots of molasses.