"When well made, this slightly sweet braided loaf looks exactly as if it would win first prize at the fair."
-James Beard, Beard on Bread
Thanks to a very hectic week full of knitting, house hunting, yoga, and even a nightime Halloween tour of the state capitol, I am finally posting now (the wee hours of Saturday morning) about a recipe I made last Sunday.
Here are the ingredients: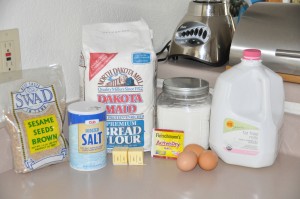 I used hard wheat, or bread, flour instead of all-purpose.  I found the massive bag of sesame seeds in the Indian foods section of the grocery store–it was more cost effective than the little bags of sesame seeds over in the spice section, although I now have huge bag of sesame seeds in my pantry.
The bread kneaded up nicely.  My rising times were a bit on the long side, an hour and a half each for the first and second risings.  I did a decent job of braiding my dough into loaves, and they looked downright impressive once I had sprinkled on the sesame seeds (in a surprisingly even fashion for once).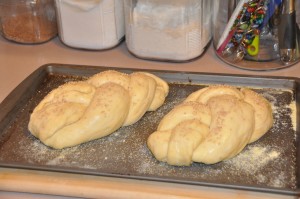 Because I don't share Beard's love affair with all things butter, I sprinkled the baking sheet with cornmeal instead of buttering it to prevent my loaves from sticking.
The loaves rose substantially during baking time, and were finished after what I think was 30 minutes in the oven (the details are starting to get foggy after almost a week).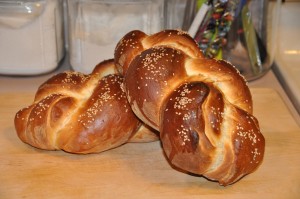 I don't think that my loaves were quite up to first prize at the county fair standards, but hopefully I would get an honorable mention.  County Fair Bread has a nice texture and flavor; however, it isn't sweet at all (despite Beard's claims).  The sesame seeds are a nice touch and add a more complex flavor to the bread.  On the downside, County Fair Bread goes stale within a day, but the stale bread still makes wonderful toast.
I liked this recipe more than James Beard's Challah recipe.  However, my favorite egg bread recipe is still the Rich Egg Bread Recipe from the Betty Crocker cookbook.  Some of it might be sentiment on my part, since it was the first kneaded bread recipe that I ever made.  Regardless, it does make a lovely loaf of bread.