"This sourdough rye appeared in the columns of The New York Times several years ago.  I tried it, made some changes in it, and discovered that it was one of the best recipes I have ever used.  The bread has a nice crumb, slices well, and keeps extremely well."
-James Beard, Beard on Bread
Sourdough Rye is a bread that requires some prep work.  I started on Wednesday night, mixing together two cups of all-purpose flour, two cups of warm water, and a package of yeast.  Then, I let the mixture sit on my counter in a tightly sealed plastic container for two days.  On Friday night, after a lovely dinner date with Mike and a couple glasses of Chardonnay (see, I occasionally do other things in my free time besides baking bread), I moved the mixture to the refrigerator.  On Saturday night, I measured out a cup of the mixture, which can only be described as "sludge" and combined it in a large bowl with another cup of warm water and two cups of rye flour.
Finally, on Sunday afternoon, it was time to start actually making bread dough.
Here is the starter: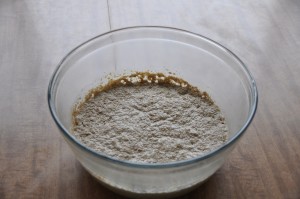 I combined my starter with the rest of my ingredients: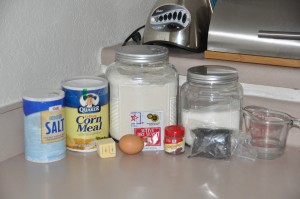 After kneading, I was impressed by how wholesome looking some caraway and poppy seeds made my bread dough look.  I let my dough rise for two hours, punched it down, formed it into two free-form loaves.  After another one and half hours of rising, I brushed the loaves with an egg wash and sliced the tops.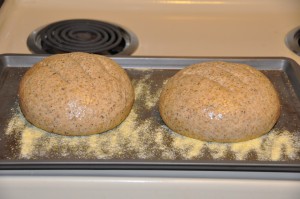 The loaves were baked to perfection after 30 minutes at 375 degrees.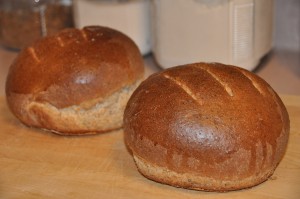 Sourdough Rye is an absolutely delicious recipe.  The texture is perfect, with an even crumb and an appealing crustiness, and the flavor is a balanced blend of caraway, rye, poppy, and sourdough.  I can't speak to whether it's a good keeper–both of the loaves disappeared by Monday night.  Sourdough Rye is one for the "favorites" list, and I highly recommend trying it.  The recipe can be found at the James Beard Foundation's website.