"Parker House rolls are as much of a tradition in the United States as any bread.  They were created, so the story goes, by the Parker House in Boston, which was one of our great nineteenth-century hostelries.  They have been copied by every cookbook author and every baker in the country.  Some versions are exceedingly good and some are absolutely dreadful…"
-James Beard, Beard on Bread
I am definitely behind in posting, thanks to a busy weekend with my in-laws visiting from the Milwaukee area.
Anyway, last Friday was a perfect October day: I took the day off from work, ate a pumpkin bagel, went for a brisk run in the park through the fall leaves, started knitting a hat, and baked Parker House Rolls.  The recipe can be found on the James Beard Foundation's website.
Here are the ingredients: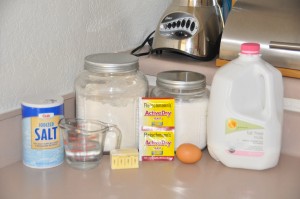 The technique for Parker House Rolls is a bit different from a standard Beard on Bread recipe.  I started by mixing all of the wet ingredients, butter, sugar, and yeast with half of the flour to form a sponge.  Then, I set the sponge in a nice sunny spot on the kitchen table and went for a run.  When I returned, 45 minutes later, the sponge was about to rise right out of the bowl.  I mixed in the rest of the flour, kneaded the dough, and let it rise again.
This time, my rise took a whopping 20 minutes.  Clearly, my yeast was throwing some sort of rowdy party in my bread dough.  I divided the dough in two and rolled each piece out.  Then I used a biscuit cutter to cut the dough into rounds.
I was supposed to have rounds that were 1/2 inch thick, which I did if you consider the average.  Half of my dough rounds were about 1/4 inch, and the other half were 3/4 inch.   The thicker rounds were difficult to shape into a Parker House foldover: you have to make an indentation in the center of the round and then fold one half of the round into the middle.
After I managed to manhandle all of my rolls into an approximate foldover, I let them rise for about half an hour.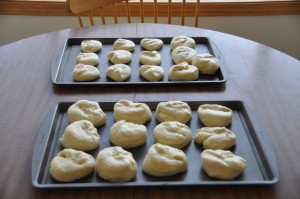 I baked both sheets of rolls at once, by strategically positioning my oven racks and rotating the rolls during baking.  I baked them for seven minutes, then switched the top pan and the bottom pan, baked another seven minutes, switched, tasted a roll and decided it was too doughy, baked for two minutes, switched, and finally baked for another two minutes for a grand total of 18 minutes.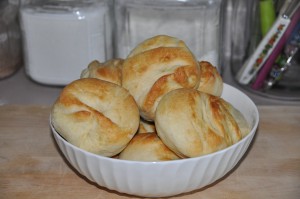 Parker House Rolls were a huge hit with my in-laws, and for good reason: they have a nice crisp crust on the outside, a light and fluffy inside, and taste divine.  Everyone was so busy eating seconds, and thirds, that they didn't even notice my questionable foldover technique.  I think the key is roll your dough out to exactly 1/2 inch–use a ruler if you have to!