"As its name suggests, this bread is derived from English muffin batter…it is excellent when sliced and toasted, otherwise, it is rather uninteresting."
-James Beard, Beard on Bread
After the delicious Crumpets I made a few weeks ago, I wanted to try a similar recipe, English Muffin Bread.
Here are the ingredients: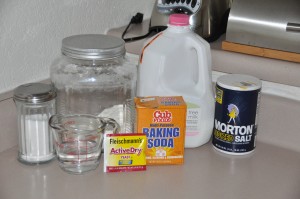 Since this is a batter bread, there is no kneading required: I mixed all the ingredients except the baking soda together, and let the batter rise for about an hour.  Then I mixed in the baking soda and divided the batter between two 8 x 4 pans.  After another 45 minutes of rising time, the batter had risen to the top of the pans and was ready to go into the oven.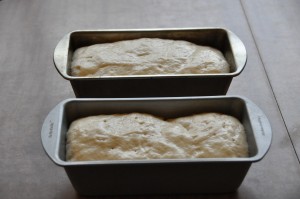 Beard doesn't specify a baking time for this bread–the recipe just says to "Bake the bread in a preheated 375 degree oven until it is golden on top and shrinks slightly from the sides of the pan."  One of my loaves (the one in the aluminum pan) was done after 20 minutes; the other (in a non-stick pan) was done after 25 minutes.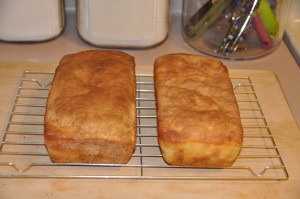 Beard claims that untoasted English Muffin Bread is "uninteresting."  Mike and I beg to differ.  Fresh out of the oven, it is a light, airy, tastily delightful bread.  Toasted, English Muffin Bread cannot even be compared to a commercial English muffin–the texture is incredible and the taste is perfect.  English Muffin Bread is absolutely divine.  Both loaves were gone within 24 hours.