Since I'm a practicing Catholic, Mike and I have meatless dinners during Lent.  This isn't a very big deal for us, since at least half of our recipes are meatless anyway.  However, Lent does give me an excuse to make one of my favorite meatless meals–breakfast for dinner.  We very rarely make big breakfasts like French toast or omelets.  In my opinion, these make excellent dinner options.  Mike is skeptical, but he humors me.
Tonight's dinner was Yeast Griddle Cakes.  Here are the ingredients: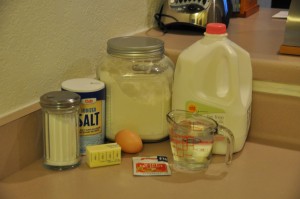 The recipe calls for making the starter the night before.  Since I was making these for dinner, I began the starter in the morning.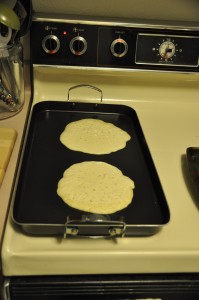 The batter was a little lumpy, and my pancakes were asymmetrical and not very aesthetically pleasing.  However, these were the absolute best pancakes that I've ever tasted.  The starter gives them a slight sourdough flavor, and they were incredibly light and fluffy.  After tasting these, I don't think that I will ever be able to go back to pancake mix!