After last week's five-and-half-hour adventure baking Carl Gohs' Bread, I wanted to bake something easy this Sunday.   Potato Scones fit the bill: no rising time, four ingredients, and a cooking time of five minutes.
Here are the four ingredients: flour, salt, butter, and mashed potatoes.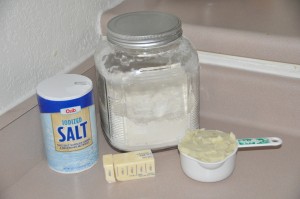 I think it took longer to make the mashed potatoes than make the actual scones themselves.
After mixing the ingredients to form a dough, I divided it into thirds and rolled each third into a circle.  Then I cut each circle into sixths and cooked the pieces on a griddle.  My first "circle" was more of a square, but the third attempt was somewhat round.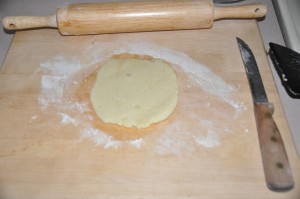 The scones had an intriguing texture–fluffy but doughy at the same time.  The potato flavor was good, but I would definitely cut the amount of salt down from one teaspoon to a half teaspoon.  Overall, this was quick, easy recipe and would make an interesting side dish.