"These are delicious little sweet buns that lend themselves to many variations.  They are great fun to prepare, have extraordinary taste, look charming, and can be frozen and reheated with great success."
-James Beard, Beard on Bread
Continuing on my Egg Breads kick, I decided to make Water-Proofed Egg Twists for tea today.  I am still cleaning dough off the towel I used to make Water-Proofed Bread, so I asked some more experienced bakers if there was any benefit to the whole wrapping dough in a towel and submerging it for its first rising.  No one could come up with any good reasons to wreck another one of my kitchen towels (or had even heard of water-proofing), so I decided to let my dough rise on dry land.
Backing up a step, here are my ingredients: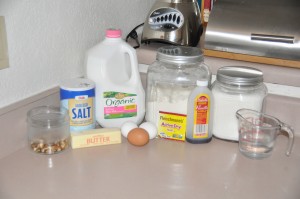 After mixing the dough ingredients together, I turned the still-sticky dough onto a floured cutting board.  Using Beard's genius suggestions (why did I never think of this?) I worked in some flour with a spatula until the dough could be kneaded by hand.  Instead of water-proofing, I let the dough rise for about 40 minutes in a greased bowl.
Next, I divided the dough into 16 approximately equal sections.  I rolled each into a cylinder and then rolled it in a sugar-chopped walnut mixture.  Then I joined the ends together and twisted the dough.  Some of my twists turned out better than others.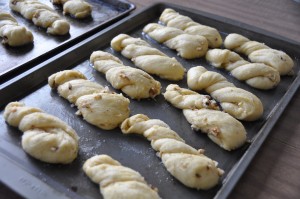 After another 45 minutes of rising, I baked the twists at 375 degrees for fifteen minutes, rotating the baking sheets halfway through.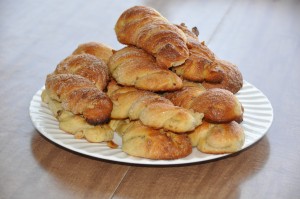 Water-Proofed Egg Twists are a delicious little sweet bread.  The texture is light and fluffy on the inside, with a hint of sweetness and crunch from the crystallized sugar and walnut coating.  Skipping the water-proofing step doesn't seem to impact the texture, so you don't have to suffer through dough-encrusted kitchen towels.  Overall, my non-water-proofed Egg Twists were a sophisticated and tasty tea time snack.