"This is a traditional American bread that can also be made with winter squash.  it is deep yellow in color and has a lightness and a lasting moisture."
-James Beard, Beard on Bread
Yesterday we celebrated an early Thanksgiving dinner with my parents, since we're spending Thanksgiving in Milwaukee with Mike's parents.  We had a turkey breast cooked in the slow cooker with cranberry-sage stuffing, mashed potatoes and gravy, cranberry sauce, and Sweet Potato Rolls.  I am happy to report that the first "Thanksgiving" dinner Mike and I hosted was a success, and the Sweet Potato Rolls were delicious.
Here are the ingredients: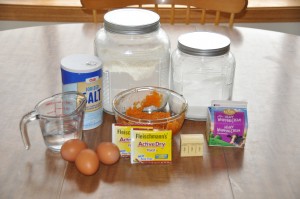 The recipe calls for 1/2 cup of mashed sweet potato.  I boiled a small sweet potato for about 45 minutes, skinned and mashed it, and measured out 1/2 cup.
The dough mixed up nicely, and was easy to knead.  It was much softer than a typical white bread dough due to the sweet potato, and a lovely light orange color.  After letting the dough rise for 45 minutes, I divided it into 24 approximately equal pieces and rolled each one into a ball.  After another 30 minutes of rising time, I glazed the rolls with a cream and egg mixture and they were ready for the oven.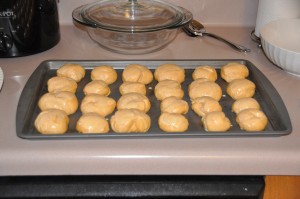 The rolls were done after 15 minutes at 375 degrees.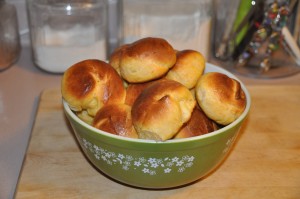 Sweet Potato Rolls are the perfect bread for a Thanksgiving spread: light and fluffy, with a subtle flavor sweet potato and a hint of sweetness.  This Beard on Bread recipe just might become a family tradition.