"There are two or three favorite recipes for oatmeal bread in this country.  I first encountered this one in Nevada, in a restaurant that was made famous by Lucius Beebe, and it was so good that I extracted the recipe from the owner and have been using it for many years."
-James Beard, Beard on Bread
After my disappointing Quick Fruit Bread candied pineapple experiment, I wanted to try another breakfast-type bread.  The recipe for Oatmeal Bread with Cooked Oatmeal can be found on the James Beard Foundation's website.
Here are the ingredients: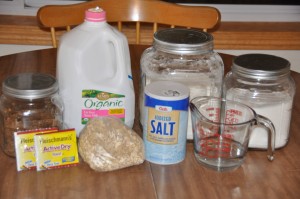 The recipe calls for "coarse rolled oats."  My grocery store bulk bins had regular old-fashioned oatmeal, and something called "thick cut" old-fashioned oatmeal.  To the naked eye, they looked the same.  I used the thick cut oats, which seemed to work out.
I started by cooking my oatmeal.  While it cooled, I mixed together the rest of my ingredients (except for the flour).  After adding the cooked oatmeal to the mixture, I stirred in four cups of flour.
I live in Minnesota, which has very dry winters.  In recent months, I have been able to drip-dry jeans in two hours, and our bedroom humidifier is pumping a gallon of water into the air each day.  Since my house–everything in it–is so dry, I didn't need to add any additional four to my dough during kneading to get it to the right consistency (Beard notes that you may have to add up to an extra cup).  My flour soaked up the liquid in the mixture like a sponge.
I let the dough rise for about an hour, and then kneaded it for a few more minutes and shaped it into loaves to fit my 8 x 4 loaf pans.  I like making recipes that allow me to use 8 x 4 pans since I find the resulting loaves cuter than those from 9 x 5 pans.  The fact that I have started to find loaves of bread to be "cute" slightly concerns me, especially since I have two more months to go on this project.  Who knows what my state of mind will be by then.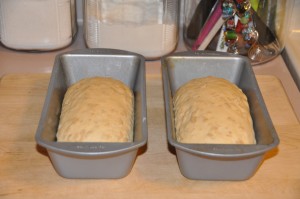 Anyway, I let the cute loaves rise for about 45 minutes, and then baked them at 375 degrees for 45 minutes.  Since my loaves were getting quite browned by that point, I skipped the recipe step of removing the loaves from their pans and baking for a few additional minutes.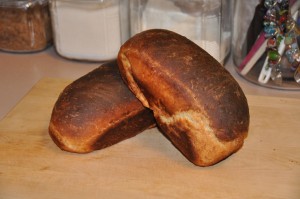 Texturally, I enjoyed the crusty, dense, and moist Oatmeal Bread with Cooked Oatmeal.  The problem was the taste: I found it be rather bland, not rich and full flavored as Beard asserts.  I used dark brown sugar, as specified by the recipe, so that wasn't the issue.  I think that I was hoping for a more pronounced "oat-y" flavor, which this loaf didn't provide.