Since my bananas were finally ripe enough, last night was banana bread night.  I was excited to try Beard's recipe because I love banana bread, but my only previous attempt was a disaster.  When I tried to slice it, the top crust separated from the rest of the loaf, which promptly disintegrated into banana mush.  Luckily, this attempt was more of a success.
The recipe can be found on the James Beard Foundation's website.
The Ingredient Picture: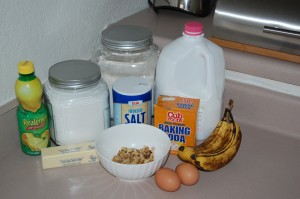 I picked chopped walnuts as my nut of choice, since I still had some left over from the cheese ravioli dish.
The bread mixed up fairly easily.  I could have let the bananas ripen for another day so that I didn't have to mash them as I mixed the bread, but I couldn't hold out any longer.
As usual, my baking time was shorter than the recipe called for, 55 minutes instead of an hour.
Because my non-stick loaf pan has been getting a sticky residue on it from the Crisco and butter I've been using to grease it, I decided to try this recipe without greasing the pan.  It was a near disaster–lesson learned, "non-stick" pans do actually have to be greased.  I was able to get the loaf out mostly intact with a knife, a large spatula, and lots of patience.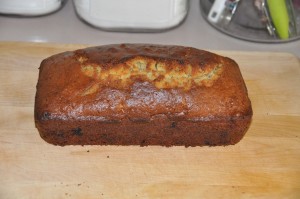 This was a much lighter-tasting banana bread than I'm used to–for me, banana bread should be very dense and moist.  This bread had a more traditional bread texture.  I prefer a richer and moister banana bread; however, my husband liked this banana bread precisely because it wasn't as rich.  The walnuts and bananas are definitely a nice flavor combination, and the texture issue comes down to personal preference.