"A pleasant rye bread of good texture and interesting flavor.  It is rather difficult to make but worth the trouble."
-James Beard, Beard on Bread
Between Thanksgiving, a knitting retreat, three different out-of-town Christmas celebrations, and Christmas cookies, I don't foresee a lot of bread baking getting done over the next few weeks.  Yesterday I managed to squeeze in Rye Bread, and I'm glad I did.  Somewhere between kneading the dough and chewing my way through a gloriously textured slice, the hectic pace of my life slipped away.
Here are the ingredients: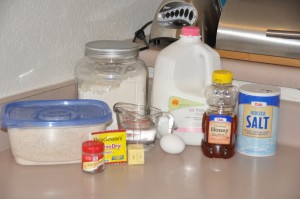 One minor adjustment: instead of a "heaping" tablespoon of salt I used a level tablespoon.  The container is full of rye flour from the co-op.
Despite Beard's rather ominous comments about this bread being "difficult to make" I had the opposite experience.  My dough kneaded up nicely, rose quickly, and baked beautifully.  Please don't bother with the allegedly "easy to prepare" and completely convoluted Pronto Pumpernickel recipe–just make this one.
My only snag was the misjudgement I made when dividing the dough, which resulted in one loaf that was quite a bit larger than the other.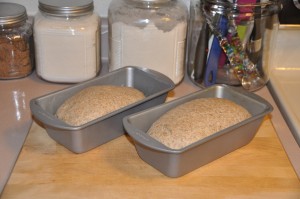 After a baking time of only 30 minutes at 400 degrees, I pulled two gorgeous loaves out of the oven.  The texture of the bread was perfect thanks to the egg white wash I brushed over the loaves: crunchy on the outside and soft and chewy on the inside.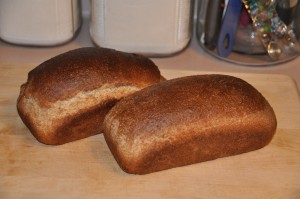 This is a winning recipe.  Rye Bread is straightforward to prepare and results in a lovely, basic loaf of bread.