"This is another coffee bread, baked in a tube pan, one that I have enjoyed all my life.  In fact, it is my favorite of all the sweet breads."
-James Beard, Beard on Bread
I usually don't mess with Beard's recipes.  That seems to defeat the purpose of the project: why bake all the recipes from a cookbook if you're going to change them?  I am guilty of leaving out raisins and the occasional exotic liqueur, but I mostly bake by the book.
Rich Sour-Cream Coffee Cake is an exception.  James Beard was a man who really, really loved butter, so when he calls something "rich" it means "obscenely decadent."  Furthermore, the recipe as written yields two large coffee cakes and contains ingredients I know I hate, like currants and apricot jam.  So I decided to step outside the box and modify the recipe a bit.  Instead of my usual post, I'm posting my recipe variation.
Stacy's Blueberry-Sour Cream Coffee Cake
A variation on "Rich Sour-Cream Coffee Cake" from Beard on Bread
Ingredients: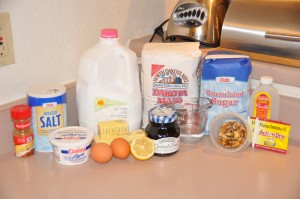 For the dough:
2 packages active dry yeast
1/4 cup granulated sugar
1/4 cup warm water (110 degrees Fahrenheit)
1/2 teaspoon salt
1/4 cup cold skim milk
1/2 cup light sour cream
1 teaspoon freshly squeezed lemon juice
1/2 teaspoon vanilla extract
1 egg
1 1/2 sticks softened unsalted butter
2 1/2 cup all-purpose flour
For the filling:
1 tablespoon melted unsalted butter
1/8 cup granulated sugar mixed with 1/2 teaspoon cinnamon
1/8 cup finely chopped walnuts
For the glaze:
4 ounces blueberry jam
Instructions:
The night before, combine the yeast, 1/8 cup sugar, and water in a large bowl and allow to proof.  Stir in the remaining 1/8 cup sugar, salt, milk, sour cream, lemon juice, and vanilla; mix well.  Add the egg; mix well.  With a pastry blender or two knives, cut the butter into the flour in a separate large bowl.  Add the flour mixture to the yeast mixture; stir.  Turn dough onto a lightly floured surface and knead until smooth and elastic.  Shape dough into a ball, place in a tightly covered bowl, and refrigerate overnight.
The next morning, roll out the dough into a rectangle (it will be stiff and difficult to work with, but persist).  Brush the rectangle with butter and sprinkle with sugar and cinnamon; then sprinkle with walnuts.  Roll dough up from the wider end.  Form into a ring and place in a Bundt pan that has been buttered or sprayed with baking spray.  Join the ends together.  Let dough rise until puffy and doubled in bulk.  (To make your dough rise faster, preheat oven to "keep warm" setting.  Turn off oven and place dough in the oven to rise.  This is particularly helpful if you keep your house cool during the winter months).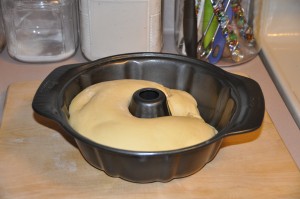 Bake bread in a preheated 375 degree oven for 30 minutes or until brown and hollow sounding when rapped with knuckles.  Turn out of Bundt pan onto a large plate or cake stand.
Melt jam over medium-high heat in a small saucepan.  Drizzle jam over cake.  Serve warm and enjoy!