"We had a reputation at home for very special biscuits…The secret of their unique quality is this: They use heavy cream instead of butter or shortening."
-James Beard, Beard on Bread
Whatever the calendar says, today was the first day of fall.  It was 46 degrees as we drove in to work this morning, there was a frigid wind as I waited at the bus stop, and tonight we have a frost advisory.  I needed something to make myself feel better about this whole fall thing, and a dinner of baked acorn squash and cream biscuits seemed like it just might be the thing.
The ingredients: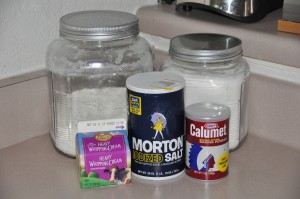 I mixed all of the dry ingredients (flour, sugar, salt, and baking powder) together, then slowly added the cream.  I had to use the whole 8 ounce carton, as well as a splash of whole milk, to get my dough to the right consistency.  It still seemed crumbly when I turned it out onto my kneading surface, but a bit of light kneading turned the mixture into a heavy dough.  I rolled it to a half inch thickness and cut out the biscuits using a round cookie cutter.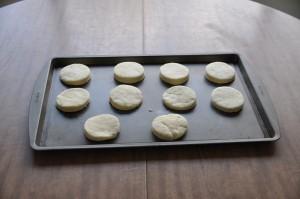 I baked the biscuits at 425 degrees for 12 minutes, which was enough to bake them to  golden-brown perfection.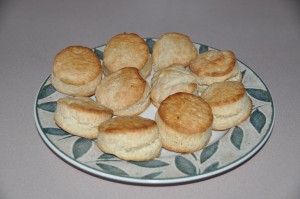 Dinner was wonderful.  As I ate my biscuits, with spoonfuls of moist, flavorful squash in between each bite, fall seemed a bit more bearable.
Although they are tasty, Cream Biscuits don't have a fluffy texture like Baking Powder Biscuits–the cream makes them much heavier.  Personally, I prefer Baking Powder Biscuits, but Cream Biscuits are certainly delicious and well worth a try.