"This rather unusual loaf has a very pleasant flavor, a little on the sweet side, and a distinctive texture."
-James Beard, Beard on Bread
Yesterday I bought some giant zucchinis at the farmer's market and made Carl Goh's Zucchini Bread.  Back in May, I spent almost 6 hours making Carl Goh's Bread, with mediocre results.  His zucchini bread is the opposite: a minimumal amount of time that produces some delicious loaves.
Here are the ingredients: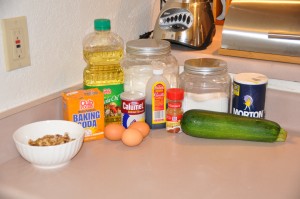 Any potential health benefits from the grated zucchini are completely negated by the cup of oil and two cups of sugar.
After I mixed the ingredients together, I poured the batter into two 9 x 5 pans lined with wax paper to prevent the loaves from sticking to the pan (thanks for the tip, Mom!)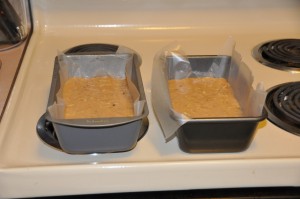 My loaves were ready after 50 minutes in the oven at 350 degrees.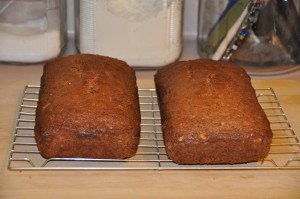 Carl Goh's Zucchini Bread is amazing.  The vanilla, cinnamon, and walnuts were a perfect blend of flavors, while the zucchini made the bread incredibly moist.  Carl Goh has redeemed himself in my eyes with this recipe.