"There are numerous varieties of what is known as 'black bread.'  I tried out recipes for a great many in the course of this book and finally settled on this one, which is not as dark as the commercial ones but has a flavor that I think is extraordinarily good and a very nice texture."
-James Beard, Beard on Bread
I like white bread as much as the next person, but after making Buttermilk White Bread and Broiled White Free-Form Loaf last week I wanted something with a richer flavor.  I chose Black Bread for its diverse ingredients–everything from instant coffee to cocoa powder to caraway seeds–and the fact that it uses rye and whole-wheat flour, which I have in abundance.
Here are all the ingredients: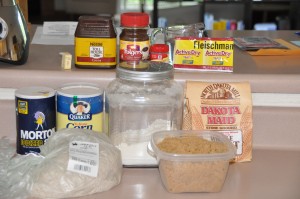 Despite the extensive ingredient list, the process of making the bread was straightforward.  I added some extra water to the dough to achieve the right consistency, but after that minor tweak the dough kneaded up very nicely.  I let the dough rise while we went grocery shopping, and then shaped it into loaves when we returned.  Beard says that the dough can be baked as two free-form loaves or in two 8 x 4 bread pans; I decided to use my bread pans.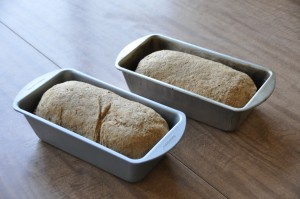 After 50 minutes in the oven, the bread was finished.  Beard recommends serving Black Bread with seafood, so I made a batch of my aunt's amazing Sockeye Salmon Spread while I waited for the bread to cool.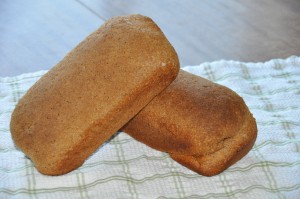 We had no idea what to expect when we bit into our slices of Black Bread–would it taste like rye? coffee? chocolate?  Mike and I both thought that it tasted like a basic rye bread, with a strong caraway flavor.  The Black Bread and salmon spread was an excellent pairing–the caraway blended nicely with the fish.  White bread, eat your heart out.