"Cornsticks are different in their way from cornbread.  They are baked in a mold shaped like a row of corn ears…The cornsticks usually bake to a golden color and are puffy inside and deliciously crunchy on the outside."
-James Beard, Beard on Bread
I bought a cornstick mold a few weeks ago and have been itching to try it out.  I went with the deluxe cast-iron model, because I love cornbread so much that I foresaw many batches of cornsticks in my future.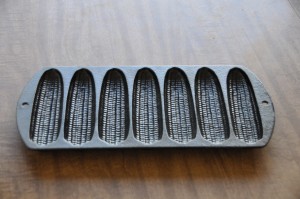 Here are the ingredients: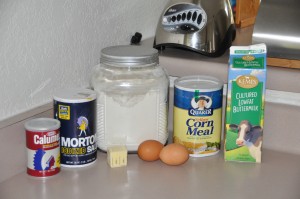 Beard's recipe calls for a cup of milk or buttermilk; I recommend using buttermilk, since it gives the cornsticks a rich, tangy flavor.
The batter was very light and fluffy, more the consistency of whipped cream than a dough.  I spooned the batter into each corn ear and baked for 15 minutes.  At that point, the cornsticks had puffed up to about twice their original size and were nicely browned.  The problem was getting them out of the mold.  I thought that I had greased the mold thoroughly, but apparently not thoroughly enough.  Using patience and a spatula, I got the cornsticks out mostly intact.  For the next batch, I used more grease with better results.  My advice for greasing a cornstick mold: use as much shortening as you think you need, and then grease the entire mold again.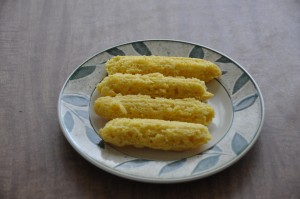 Although they weren't very aesthetically pleasing, the cornsticks were delicious.  Since there isn't any sugar in the recipe, they were a savory instead of a sweet cornbread.  Mike remedied that deficiency (in his opinion) by eating them with lots of honey; I ate mine plain.  I particularly enjoyed the texture, which was much lighter than a typical cornbread.
Despite the minor difficulties extricating the cornsticks from the pan, this recipe was a success–and I'm glad that I invested in the deluxe cornstick mold.