"[Banana Nut Bread] is extraordinarily good for small sandwiches or as a breakfast or luncheon bread…"
-James Beard, Beard on Bread
This week, I was in the mood for banana bread.  Since I wanted the bananas to mash easily, I let them ripen on my counter for nearly a week.  Last night I realized it was time to make bread when they started falling apart when I moved them across the counter.
In addition to the over-ripe bananas, here are the rest of the ingredients: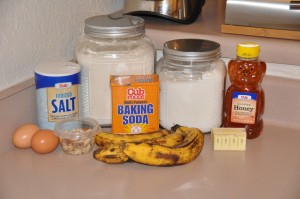 This was an easy recipe to put together: all I had to do was mix the ingredients together and pour into a loaf pan.  Beard's recipe calls for using a 12 x 4 1/2 loaf pan; I don't have a pan that size, so I just used a 9 x 5 instead.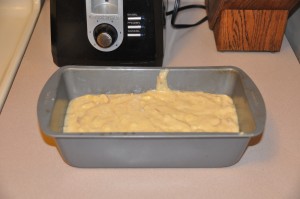 The bread was finished after baking at 350 degrees for 50 minutes.  It was a bit tricky to get the bread out of the pan, even though I greased the pan thoroughly.  I loosened the edges of the bread with a knife, and then turned the pan upside down–the loaf didn't budge.  I tried loosening the edges some more, and the bread stubbornly remained in the pan.  In exasperation, I went upstairs to do a Google search for "how to get bread out of a loaf pan" and was starting to come to the conclusion that we were going to have to dig the bread out bite-by-bite with forks when Mike saved the day.  Apparently he held the pan upside down, wiggled it like a ice cube tray, and the bread popped right out.  Although I think I should get credit for loosening it…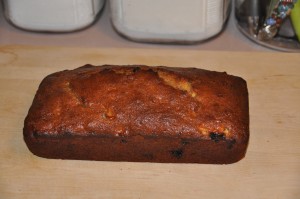 We had a delicious breakfast of Banana Nut Bread this morning.  I like this recipe much better than Beard's other recipe for banana bread.  Since it has an extra banana (three instead of two), Banana Nut Bread is much more flavorful and moist.  I also enjoyed the flavor combination of almonds and bananas.
Of course, this wasn't as good as my mother's fabulous banana bread (but I doubt any recipe will ever be) but it was close.