"I first ate Myrtle Allen's brown bread in her delightful inn, Ballymaloe House, in Ireland.  It is an uncommonly well-textured whole-wheat bread with a lovely flavor…"
-James Beard, Beard on Bread
Mike and I spent our honeymoon in Ireland, so I have a soft spot for anything Irish.  Not only is this recipe Irish, Myrtle Allen's Brown Bread is also a wonderful weeknight bread because there is no kneading and only one rising.  The recipe can be found on the James Beard Foundation's website.
Here are the ingredients: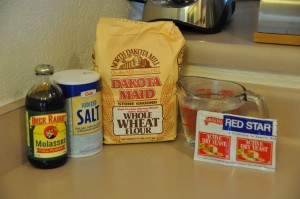 I used one-third less salt than the recipe called for–2 teaspoons instead of 1 tablespoon.
An unusual step in this recipe is heating the flour and bowl before mixing the ingredients together.  I'm not sure what this accomplishes, but I set my oven to "warm" and let the flour heat up while I let my yeast proof.  After about 10 minutes, the flour was warm and the yeast had bubbled up nicely, soI mixed everything together.  My dough was moist and sticky after adding two cups of water total to the flour, as called for by the recipe.
I spread the dough into my 9 x 5 pan and let it rise for 45 minutes.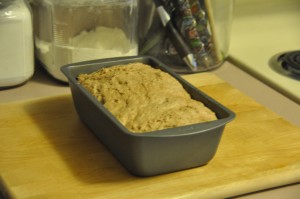 The recipe recommends a baking time of 50 minutes at 450 degrees, or "until the crust is nicely browned and the loaf sounds hollow when tapped."  By that measure, my bread was done after only half an hour.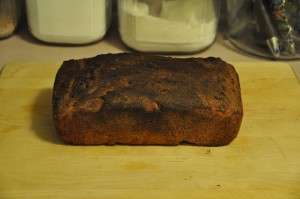 Biting into a fresh slice of Myrtle Allen's Brown Bread was being back at an Irish bed and breakfast.  The bread has a thick, crispy crust, a robust texture, and a delightfully simple, honest flavor.
I was curious to see if Ballymaloe House is still in existence.  It most definitely is, and Myrtle Allen still works around the house.  I hope that she's still wowing guests with her amazing brown bread.