"Certainly no bread in America has been more popular over a longer time than baking powder biscuits."
-James Beard, Beard on Bread
"I love these biscuits."
-Mike
I try to bake two recipes a week, one during the week and one on the weekend.  Weeknight baking can be tricky, since there isn't enough time between getting home from work and dinner for dough to rise–unless we eat dinner after 9:00 pm.  Baking powder biscuits are the perfect weeknight bread: minimal ingredients, easy prep, and a short baking time.  Oh, and they're pretty delicious to boot.  The recipe can be found on the James Beard Foundation's website.
Here are the ingredients, all five of them: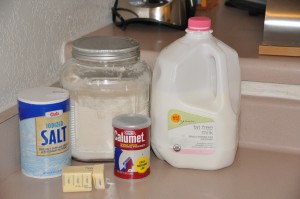 Beard recommends using two knives or a heavy fork to cut the butter into the flour mixture.  I had excellent results using my pastry blender.
Even after adding the milk, my dough was still too dry to hold together, so I kneaded 2 teaspoons of water into the dough.  I rolled the dough out to a half-inch thickness, as recommended for "very high, fluffy biscuits" (who in their right mind would want a thin, crispy baking powder biscuit anyway?).  Since I used a large round cookie cutter, the recipe only yielded seven biscuits instead of twelve.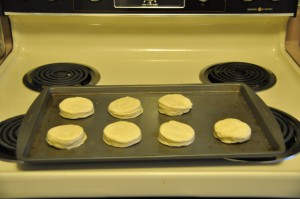 I baked the biscuits for ten minutes, at which point they were a beautiful golden color and were exploding with fluffiness.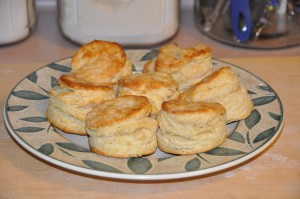 The biscuits were absolutely incredible.  The texture was perfect: browned but not too crisp on the outside, fluffy layers on the inside.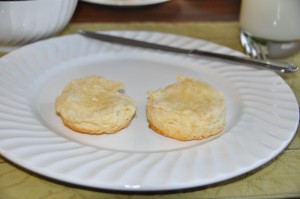 Bearing in mind the horrendous stomachache I got last week from consuming two-thirds of my batch of pancakes, and since the biscuits were fairly massive, I limited myself to only two.  It required epic willpower.