I couldn't have created this blog without my husband, Mike.  He is my website developer, food photographer, and chief taste-tester.  Most importantly, when I told him that I wanted to spend the next year baking all of the recipes from Beard on Bread, he didn't say, "Why would you do a crazy thing like that?" or "We really don't need all that bread…"  Instead, he (and this is why he's the perfect husband for me) said, "Cool!  That means I get to eat lots of homemade bread!"
Anyway, to thank him for all of his contributions to the Brooks Bakes Bread Project, I promised to bake a recipe of his choosing this week.  After perusing the cookbook, he chose Graham Bread.
All I know about graham flour is that presumably it's used to make graham crackers, and I planned on driving all over the greater Minneapolis-St. Paul metro area in search of a specialty baking store that carried it.  Actually, my local grocery store carries Bob's Red Mill Organic Graham Flour in the regular baking aisle, right next to the yeast.
Here is the graham flour with the rest of the ingredients: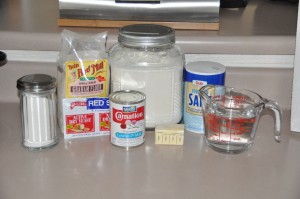 This recipe makes a lot of dough–the recipe calls for three cups of graham flour and five to six cups of all-purpose flour. I got my dough to the right consistency with about four and one-half cups of all-purpose flour. I let the dough rise for 50 minutes, at which point it had exploded out of the bowl I put it in. The recipe yields three 9 x 5 loaves of bread; since I only have two 9 x 5 loaf pans, I made two 9 x 5 loaves and two 8 x 4 loaves.  I let the dough rise in the pans for about one hour.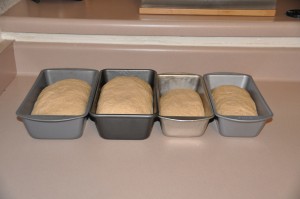 As called for by the recipe, I baked all four loaves at 425 degrees for 10 minutes. Then I turned the oven down to 350 degrees and baked the 8 x 4 loaves for an additional 25 minutes and the 9 x 5 loaves for an additional 30 minutes.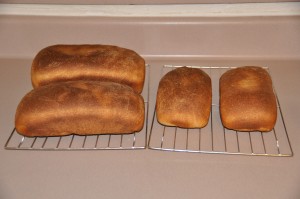 The verdict? The bread certainly doesn't taste like graham crackers–there isn't enough sugar for that. The graham flour provided some of the nutty flavor of a whole wheat flour, but with a much lighter taste and texture.
I put two of the loaves in the freezer, since we learned from last week's massive challah loaves that there is a limit to how much bread two people can eat. We ate some fresh out of the oven (of course), we had challah for dinner on Thursday, I had a challah grilled cheese on Friday, and we both had challah grilled cheeses on Saturday. There was still half a loaf left, so I resorted to making Melba toast and croutons. We did use it all up, but I don't think that I can look at another challah braid for a few months.