"Like all of the fruit breads made with baking powder, the apricot loaves are quite rich and have beautiful color and rather tight texture."
-James Beard, Beard on Bread
Even though it's an easy recipe, I have been hesitant to bake Apricot Bread.  I tried apricots once before, and I disliked them so much that I threw away most of the bag.  However, since I'm baking all 104 recipes, I had to conquer my disdain and give Apricot Bread a try.
Here are the ingredients: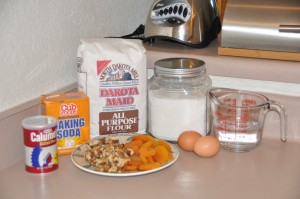 The recipe calls for "1 cup chopped nuts" but doesn't specify what kind to use.  I used walnuts.  Preparing the dough was easy–I just had to soak the apricots in boiling water for a few minutes, chop up the apricots and walnuts, and then mix all of the ingredients together.
Next, I divided the dough in half and scraped it into two 9 x 5 loaf pans as Beard instructs.  They did seem a bit under-filled, but I decided to follow the recipe and see what happened.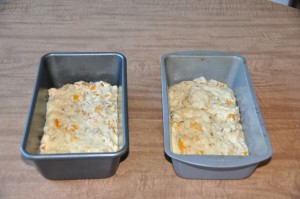 The bread was finished after 25 minutes in the oven at 350 degrees.  I put the loaves on racks to cool, suspiciously eying the apricot chunks.  One of the loaves was rather flat, but the other rose nicely.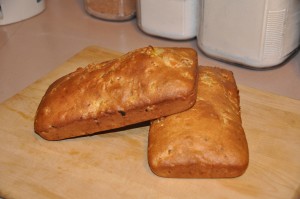 After letting the bread cool, I sampled a slice and was pleasantly surprised.  The sugar and walnuts almost cancel out the apricot flavor.  The texture is very similar to Raw Apple Bread, one of my favorite Beard on Bread recipes.  If you like apricots, I'm sure that you would enjoy the Apricot Bread recipe; if not, stick with Raw Apple Bread instead.