"The potato and butter in this loaf give it a distinctive, very pleasant flavor…it is nice for sandwiches or toast or as a breakfast or tea bread, and is reminiscent of breads that used to be common in the nineteenth century."
-James Beard, Beard on Bread
I continued my bread-with-mashed-potatoes kick today with Refrigerator Potato Bread.  The recipe can be found on the James Beard Foundation's website.
Here are the ingredients: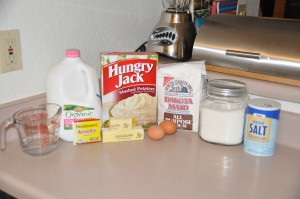 Refrigerator Potato Bread is so named because its first rising is done overnight in the refrigerator.  Last night, I mixed up my dough (I had to use an extra 1/2 cup of flour, 6 1/2 cups total, to get the right consistency), kneaded it up, and placed it in a buttered bowl covered with plastic wrap in the refrigerator.
This morning, after a leisurely breakfast (I love Saturdays!) I pulled my dough out of the refrigerator and let it warm up for about 10 minutes.  Then, I kneaded it for a second time.  The dough was still cold and stiff from its night in the fridge, so kneading involved more manhandling than fluid technique.
I shaped the dough into loaves to fit in my 9 x 5 loaf pans, and let them rise for 3 hours.  Since I was starting with cold dough, I wanted to allow ample time for the second rising.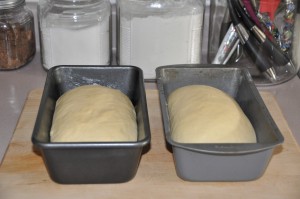 After 40 minutes in the oven at 375 degrees, the bread was ready in time for lunch (Fresh baked bread for lunch is another reason to love Saturdays).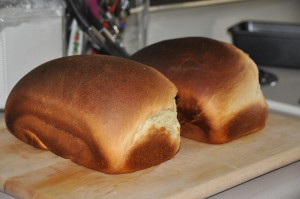 Both of the loaves cracked on one side during baking; I think that if I had made some cuts in the top that would have prevented it.
Mike and I both thought Refrigerator Potato Bread was delicious.  It was somehow fluffy and moist at the same time, with a nice balance of flavors from the butter, potatoes, sugar, and salt.  We're looking forward to making some paninis tomorrow night.