"Made with hard-wheat flour, this loaf is light, chewy, and extremely well crusted."
-James Beard, Beard on Bread
Since I had buttermilk left over from making Lefse on Saturday, I decided to bake a loaf of Buttermilk White Bread for supper last night.
Here are the ingredients: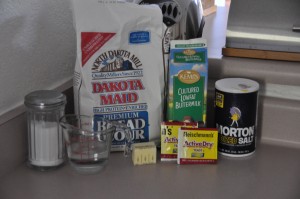 As I was mixing up the dough, I thought that two packages of yeast seemed like a lot of yeast for only one 9 x 5 loaf of bread.  However, trusting in Beard, I continued mixing, and then kneaded the dough.  After I had finished, I let the dough rest on the cutting board while I greased a bowl to hold the dough as it rose.  Greasing the bowl took maybe two minutes.  In that amount of time, the dough got visibly larger.  This was Bread Dough on Steroids.
The dough doubled in size after only half an hour.  I punched the dough down, kneaded it a bit more, and shaped it into a loaf.  The loaf already looked over-sized as I nestled it into the loaf pan; after rising for fifteen minutes, it was already bulging out of the pan.  I decided to put the loaf in the oven before it could grow more.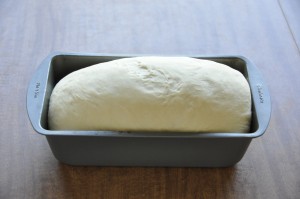 When I opened the oven door after 30 minutes, I was momentarily speechless.  My loaf of bread was exploding out of its pan.  The loaf had grown so much that it was touching the top of the oven.  Honestly, it looked pretty ridiculous.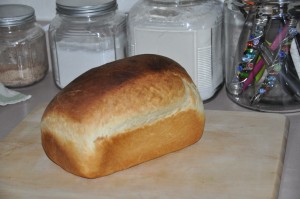 "Well," said Mike, "at least it's big enough to make some nice sandwiches with."
It did make some lovely sandwiches.  Although Buttermilk White Bread doesn't have a particularly distinctive flavor, it does have an amazingly light, fluffy, chewy texture.  Next time I'll just have to remember to move my oven rack a little bit lower.